Inns in and around
Stratford-upon-Avon
Welcome to Shakespeare Country, and our handpicked selection of some of the best hotels and inns in Stratford-upon-Avon. Stratford-upon-Avon is world famous as the birthplace of William Shakespeare. Here you will find several properties directly connected to Shakespeare, such as the Birthplace itself, Ann Hathaway's Cottage, Mary Arden's House and New Place. You can also visit Shakespeare's tomb in Holy Trinity Church. And no trip to Stratford would be complete without a visit to the Theatre to see one of the great man's plays.
There is much more to Stratford than Shakespeare though. This is a lovely riverside town, full of ancient timbered buildings and with pretty gardens by the canal and River Avon. Hire a boat or a canoe, cross by the pedestrian ferry or enjoy a drink or bite to eat in a riverside cafe. And the shopping here is excellent too, with antique shops, gift shops and independent stores as well as High Street names. Don't miss the annual Mop Fair in October!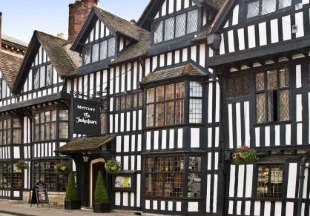 The Shakespeare Hotel, Stratford
Over the years the Shakespeare has been a firm favourite with politicians, diplomats and business people alike. The hotel boasts open fires in the lounge during the winter months.
Check Prices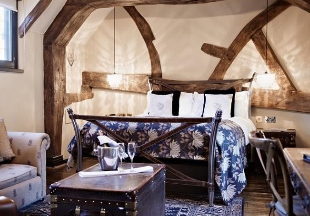 The White Swan Hotel, Stratford
The White Swan Hotel has recently re-opened after a £3 million refurbishment. One of the oldest buildings in Stratford upon Avon and the oldest hotel, the Grade II listed White Swan dates back to 1450.
Check Prices